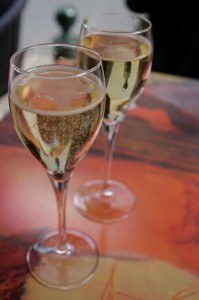 I love to travel, write crazy stories, and drink wine, taking pictures along the way.
Favorite types of wine: Zinfandel, Riesling, Champagne (and all sparkling wines)
Least favorite/most misunderstood types of wine: Pinot Gris/Grigio and Pinot Noir
Favorite US wines: Ridge for Zinfandel, Gruet for sparkling wine, and too many wineries for Riesling to list. OK, here are a few: Hermann J. Wiemer, Chateau Lafayette Reneau, Lamoreaux Landing, Thirsty Owl, Brotherhood, Hazlitt, and Dr. Konstantin Frank.
Oldest wine ever tasted: a 1978 Ridge California Zinfandel Paso Robles (in 2012)
Last wine I made at home: a "country-style" sparkling wine made from Finger Lakes Chardonnay grape juice from Fall Bright Winery. I separated the base wine into three different batches and used three unusual sugars for the secondary fermentation. The wines just wrapped up their first month of a three-month aging process.
Disclaimer: The opinions expressed on this site are all my own — my opinions are simply priceless. If you purchase a wine after clicking on a link on this site and that link is from an affiliate vendor (typically Amazon), I will receive a percentage of the purchase price from that vendor. This in no way affects the amount that you pay to the vendor. All links aren't affiliate links, though, because all sites don't offer affiliate deals. I do not let the availability of affiliate deals influence my commentary, though, as you know, Amazon does sell just about everything that can be sold. All photos used on this site are my own, unless otherwise noted, and are copyrighted, or whatever.